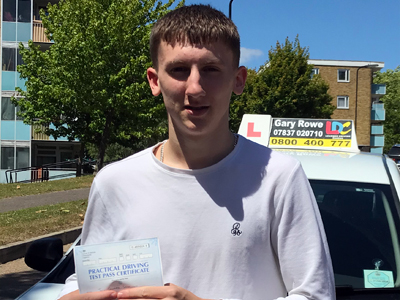 Jack Sparling
1st Time Pass
Absolutely amazing bloke, has a very good style of teaching and ultimately makes you feel comfortable. Helped me pass in just a few months and couldn't be happier. Passed with only 1 driver fault.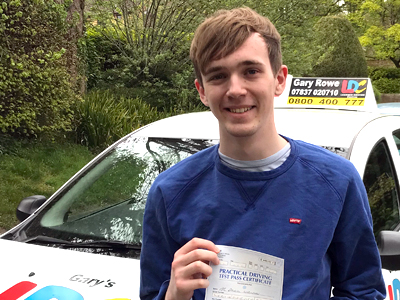 Daniel Shrimpton
1st Time Pass
Just managed to pass first time thanks to Gary. I've had him since the beginning and he's always pushed me to improve, whilst never making me feel unsafe in his car. Easy to get along with and I never felt awkward driving with him, I would highly recommend him to anyone looking to learn. Thanks Gary!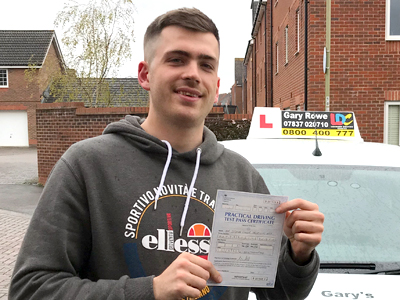 Joshua May
1st Time Passed
Gary is a top guy! Really helped me out with a fear of driving and helped me get past the mental block that previous instructors were not able to! By creating a calm and joyous environment he has given me an incredible experience, what has taught me to love driving! and with a first time pass it's a 5 ⭐️ experience. Thank you Gary!!!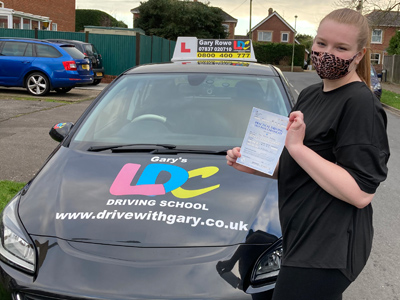 Thea Maloney
I would definitely recommend Gary to friends looking for driving instructors! :) He's really easy to get along with and is always up for a laugh and helped me and my sister pass our test! Thank you Gary!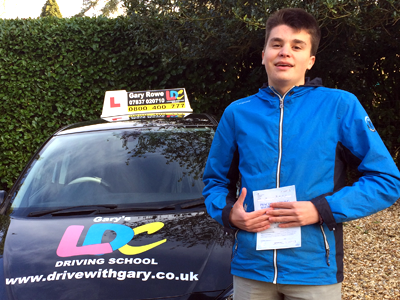 Joe Potter
First Time Pass
Gary is an amazing instructor. Manages to strike the balance between keeping a comfortable, friendly atmosphere and maintaining an effective instructional lesson structure. Would highly recommend.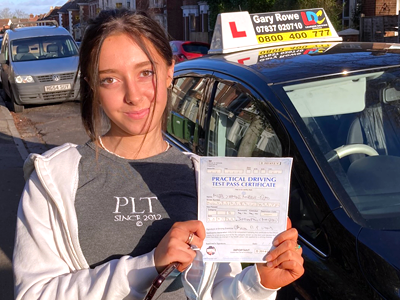 Yasmine Azad
1st Time Pass
After having to change driving instructors, I came across Gary and I can honestly say I don't believe I would've passed first time without his help. He has been so supportive along the whole way and helped me gain the confidence I needed when it came to driving. I highly recommend Gary if you're looking for an instructor. Thank you so much for the help Gary! :)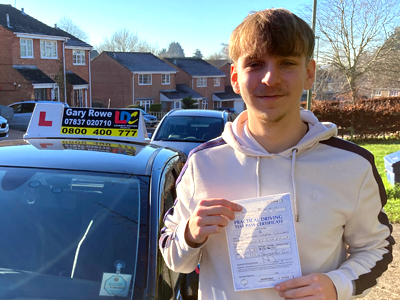 Sam Williams
1st Time Pass
Highly recommend Gary to anyone booking driving lessons for their son / daughter. Excellent lines of communication when booking lessons; always punctual. Put my son at ease from lesson one. Clearly explained to us what areas needed to be focussed on when we took him out driving between lessons. Thank you Gary!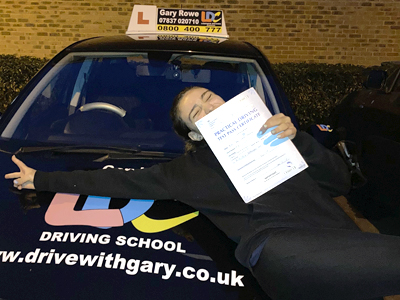 Demi Maloney
1st Time Pass
I learnt to drive with Gary after having instructors before and giving up and taking a break. When i started with gary he immediately made me feel at ease, he was an amazing teacher, so calm and lots of patience! He taught me until my pass and was so chuffed when i had finally passed!! My sister is also learning to drive with Gary and loving it! I would 100% recommend Gary, so glad i decided to start again and so glad i found him! Thank you Gary!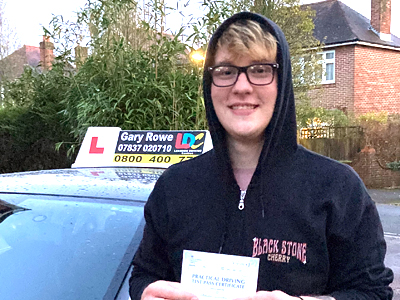 Morgan Cousins
1st Time Pass
I was only with Gary for a short while, I didn't have long to pass my test before my theory expired. But when many other instructors turned me away for being 'too busy' or saying it wasn't a 'realistic timeframe to pass', Gary told me no problem and we booked in our first lesson together. Writing this today, I can truthfully say I wouldn't have passed without him. Gary is an excellent instructor. He breaks things down in a way which I've never seen other instructors do and he makes the hardest parts about driving feel easy and really takes the pressure off. He's very relaxed and easy to talk to so if you find yourself feeling nervous or worried about starting then you'll have no problems with Gary and he will be your best choice for an instructor. Overall, I would massively recommend Gary to anyone looking to start, or get back to learning to drive. Thanks for the help Gary!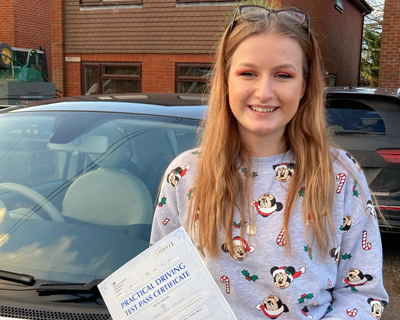 Kara Streader
1st Time Pass
If you want a fun and easy to talk to instructor then I literally can not rate Gary any higher! So easy going, helped me build my self confidence when I'm driving because I used to get soo soo sooooo nervous, and he helped me pass 1st try! Thank you so much Gary, it's been hilarious! Looking forward to our motorway lesson, sad it's almost over!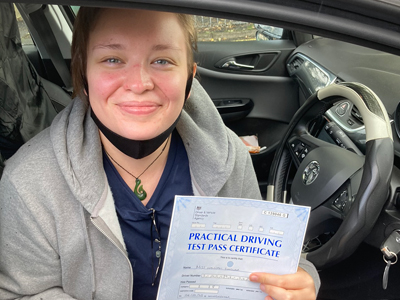 Hannah Sinclair
1st Time Pass
Learning to drive with Gary was a fantastic experience. At 26, I was a late starter to driving but that didn't make any difference to Gary's attitude or commitment to teaching me. Lessons were always structured towards me, what I thought I should be learning, what I was comfortable with but I was also encouraged to push to achieve new things and reach new milestones with each lesson. Gary is great at adapting to how different people learn; I know this because he has also taught my sister and we are polar opposites in how we learn things! Yet she and I started learning at roughly the same time and have had our tests around the same time, all thanks to Gary's approach of everybody learns differently. You don't appreciate before you start learning just how much there is to take in, with both theory and practical aspects, but Gary made it all manageable and interesting. Gary is so easy to get along with, I am genuinely sad that our lesson times are over but incredibly grateful for his calm, collected, knowledgeable, reassuring and fun teaching. Thanks for making me a confident driver!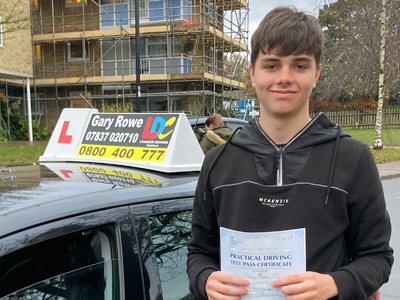 Craig Bailey
1 Week Pass
I done a 1 week intense course with Gary and I would recommend as he will make you feel calm and confident about driving. He is a very good teacher and I found it very easy to pick up what he was instructing me to do and I learned it fast off him. I passed first time with Gary and I would 100% recommended him to others.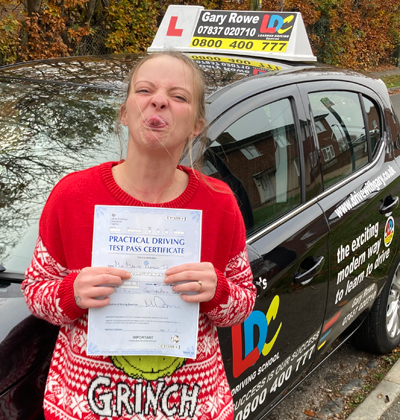 Maxine Hunt
1st Time Passed 🚗
Today I PASSED my test first try! I've been learning with Gary over the last 6/7 months, honestly it's been amazing, he's been so patient and calm throughout our lessons (Honestly I was a mess at times). We've had so many laughs, listened to some bangers and at times he's been my therapist. He had confidence in me even when I didn't. I honestly can't thank him enough. Best of all I've gained a new friend. 😁 🚗
Maddie Garrett
When I first started driving I was probably as anxious as you can get and at times i didn't want to bother learning anymore, that was until I switched driving instructors and started learning with Gary :) every lesson I came out of my shell more, and became more and more comfortable behind the wheel until I learned to actually enjoy driving! his way of teaching is calm and understanding, which as an anxious person is what i needed most. I highly recommend having Gary as an instructor as he's helped me go from being terrified of driving, to passing my test with only one minor :) thanks Gary!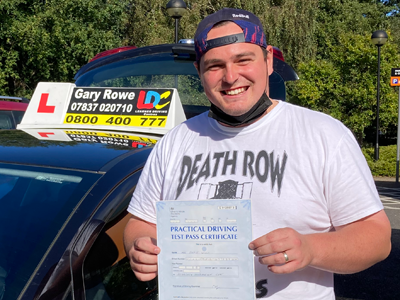 Jamie Wills
1st Time Passed
Where do I start. Gary has a brilliant way of teaching students how to drive in a safe yet comfortable manor. I've been to a few different driving instructors and I didn't get along with the way they teach. Gary had made the technique of driving seem easy from all the reversing and parking procedures to driving on the roads at various speeds. Gary really doesn't over complicate anything, unlike other instructors, instead he makes it easier and really opens doors on the way driving should be done. Other instructors always overcomplicate everything and in a very strict way, Gary is quite the opposite. He made me feel comfortable and confident behind the steering wheel. I would recommend Gary Rowe LDC driving school to anyone from beginners to more experienced drivers. Thank you Gary for helping me to pass my driving test.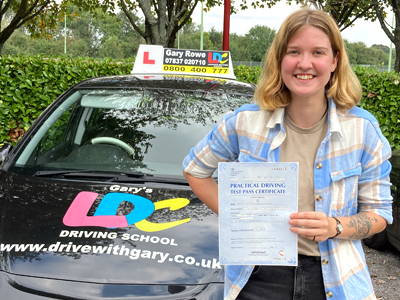 Kirsten Porter
1st Time Pass
Gary has been an amazing driving instructor. He was patient and helpful, and made the lesson fun and interesting. He has done amazing things for my confidence and was great at communicating and adapting his teaching methods to suit me. I would thoroughly recommend him to anyone looking for an instructor.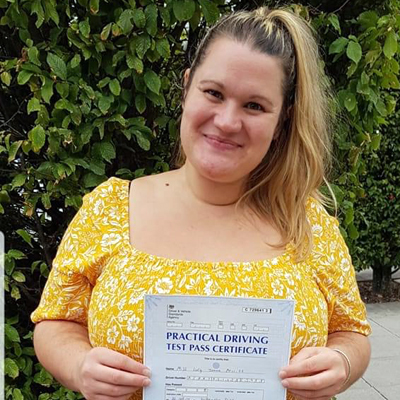 Lucy Merritt
1st Time Pass
I recently passed my practical test first time because of Gary!! He really has been my favourite instructor. I have tried a few different ones over the years but none of them made me feel as at ease as he did. Gary is passionate about teaching you how to drive and helps you to take the lead in your own learning. He was kind, patient and friendly throughout each lesson which helped me feel safe and calm whilst driving which is difficult for me being quite an anxious and self critical person already. Gary dealt with this very well, showing compassion and understanding, mostly through his sense of humour and gentle nature. Gary helped me to self evaluate my own driving skills, stopping to discuss what I had done well in addition to considering what areas I felt I needed to improve upon during my next lesson or felt less confident in and why. Also really important to say, I feel, is that he didn't repeatedly do this, and did not waste time discussing things when I could be learning practical skills, which I find is a major fault in many other instructors. Gary allocated time to do this whilst linking it to learning the practical skills of manoeuvres. So definitely good value for money with actual time driving. Being a nurse, Gary was also massively helpful in his flexibility, booking in lessons far in advance as well as short notice in addition to switching up where they began and ended to help me balance my shift work with my practical learning. The LDC resources online were the only reason I feel I was able to pass my theory test too. Really really helpful tool, and tests available on there. I could not praise him enough and the LDC way of learning. I am incredibly grateful for all his help and kindness.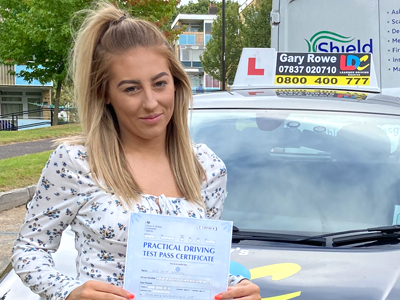 Ellie Sparling
Highly recommend Gary as a driving instructor. He would ask me every lesson what area I would want to work on with my driving and give me feedback on what he thinks i need to improve on. He always made me feel comfortable during lessons and before my test. Amazing teacher!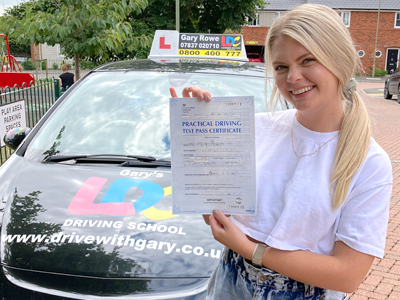 Louise Chamberlain
Semi-Intensive Course
Gary is a brilliant driving instructor - unlike other instructors I have had, he is truly passionate about what he does and this shows in the effort and professionalism he brings to lessons. Not only did he teach me how to competently drive, but he also acted as my coach, psychologist and counsellor when I was having wobbles with my confidence, needed calming down or just a very stern pep talk. I took a 30 hr semi-intensive course with Gary after catastrophically failing my 1st driving test with 3 majors and countless minors. After my lessons with Gary, I improved hugely and passed 2nd time! I couldn't believe it as I truly didn't believe I could do it, but Gary didn't give up on me despite my low starting point and the fact I was a slow learner, and the result shows. In addition to this, Gary is a lovely person who made me feel comfortable at all times and who I enjoyed learning to drive with. I wouldn't hesitate to give him my full recommendation.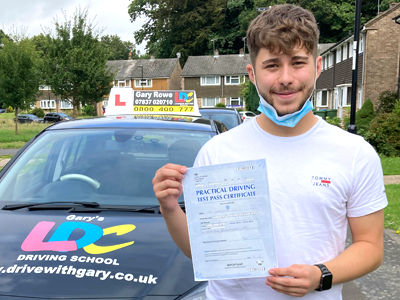 Jake Fisk
1st Time Pass
Gary is a very patient yet informative driving instructor. He began the lessons at a pace that suited me which helped me learn how to drive with a lot more confidence. I passed first time with his excellent teaching. Thank you for the last year and a half of teaching!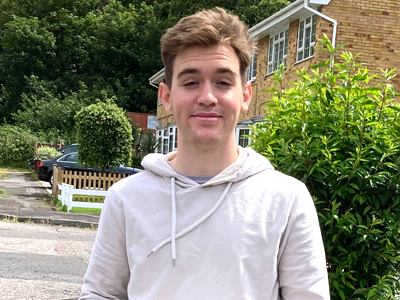 Seb Compton
1st Time Pass
Gary is an amazing teacher. After leaving my previous instructor, I saw a significant increase in quality of teaching from Gary as opposed to my old instructor. He taught me patience on the road and constantly supported me on my driving journey by helping to overcome challenges which I had while driving. Excellent teacher 10/10, highly recommend.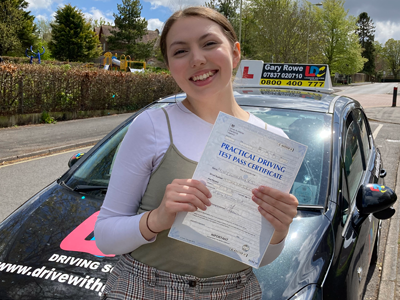 Louisa Sinclair
Learning to drive with Gary has been such an amazing experience! I think I lucked out having him as my instructor as he always remains calm and collected, making potentially stressful situations feel easy. I never felt discouraged whilst driving with him as he tends to focus on what you've done well rather than what you haven't done so well! He never made anything seem too difficult and always made sure I was comfortable whilst also making sure I was still progressing. Gary's also great at putting you at ease so the lessons were always fun and I will genuinely miss having them! Overall, 10/10 would recommend!
Emily Donnarumma
I would recommend Gary. He helped improve my confidence and taught me an understanding on how to drive and why things are done. He's very friendly, calm and Covid safe. He's reliable and always made me feel relaxed even when things didn't go well.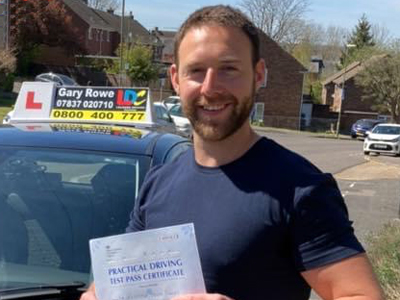 Kris Dooley
1st Time Pass - 0 Driving Faults
A massive thank you to Gary for helping me pass my driving test (April 2021). I passed first time with zero faults which is amazing, and this has to go down to Gary and his teaching methods. Really enjoyable and funny conversions throughout made learning to drive lots of fun. Highly recommend!!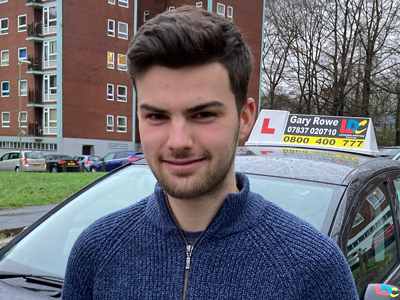 Reuben Biondi
0 Faults 1st Attempt
An absolute legend of a driving instructor! I was very nervous before my first lesson with Gary, but as soon as I started talking with him he put me at complete ease. He really helps you to keep calm whilst driving, but he's also an absolute laugh and we had some great banter! He never focuses on mistakes, but instead highlights the things you do right, which really helps improve confidence. I could not recommend Gary more, he makes an effort to not only be a great instructor, but also be a good friend. Thanks to him I was able to pass with no minors, which I think says it all! Thank you Gary.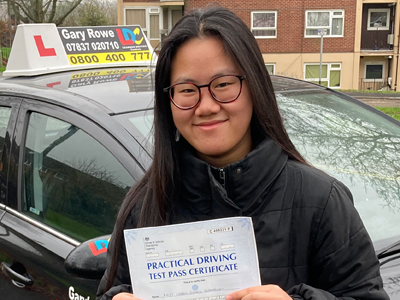 Issy Broadberry
1st Time Pass - 1 driving fault
I'm very grateful that I have had Gary as my driving instructor! From my first lesson, he completely put me at ease with his friendliness and positive approach. Gary is always on time, professional and completely thorough when adhering to Coronavirus guidelines. He is also always open to questions, even outside the lesson - I was actually informed by him, more than once, that he was there to help me in any way he could. To me, this showcases his brilliant qualities as an instructor who is willing to go above and beyond for his students. Additionally, any mistakes I made were addressed calmly and never in a way that made me feel at all humiliated. Gary was recommended to me and now, I already have and will continue to recommend him to others! Thank you so much Gary, for the first time pass and everything else too - I'll miss your lessons!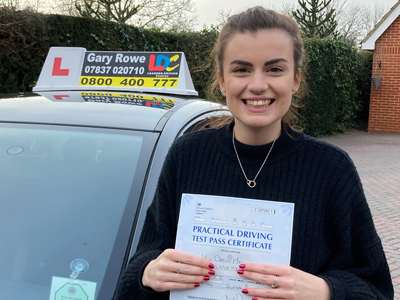 Carly May
Changed Instructor for the best
Gary is a great driving instructor! After failing my 6th driving test with another instructor, I decided to contact Gary for lessons as I had known him previously through work. I am so glad that I did! I had always struggled with my nerves and confidence whilst driving, Gary was so patient and offered tips on how to deal with my anxiety which was so helpful! He plans each lesson to focus on the main areas that need improvement. I really enjoyed the lessons and felt after each one that I was making so much progress. I passed my first test with Gary and couldn't have done it without his helpful guidance and advice. I can't recommend him enough to anyone needing lessons! Thanks so much.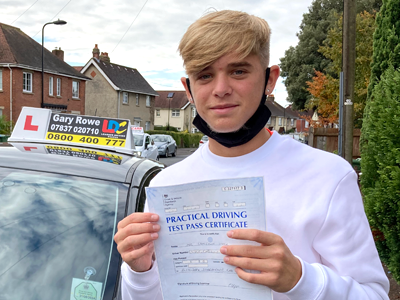 Cameron Sheen
1st Time Pass
I joined with Gary after switching instructors and can confidently refer him to anyone I know learning to drive. Gary has great patience, calmness, very understanding and down to earth. Gary took me on and helped me to focus on my weakness and most importantly pass my test first time!! thank you so much for you're help and dedication!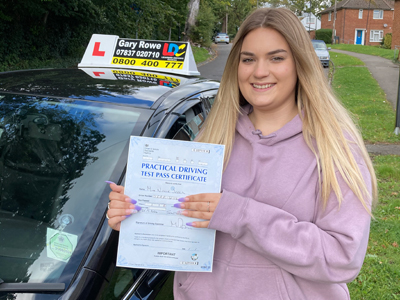 Nicole Jerrim
Gary was and is an excellent driving instructor. I really struggled with my confidence when I first started driving so I made the decision to give up. A year later I text Gary saying I want to get back into driving, so after lockdown I had my first driving lesson and just 2/3 months later I have passed my driving test!! I 100% recommended Gary he is patient, understanding and he will never give up on his students! Gary also passed my older brother and sister and will hopefully pass the rest of the family when old enough 😊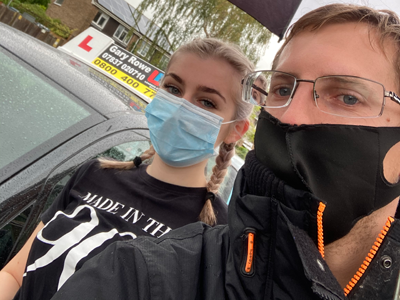 Tara Hitchcock
1st Time Pass
Brilliant experience, very funny and polite. Easy to get along with, I passed 1st time with his excellent help. I had a bad experience with a previous driving instructor who was rude and shouted at me numerous times. Gary was the complete opposite - he was calm and relaxing, he always made me confident within my driving. It was a pleasure to do my lessons with him. I'd definitely recommend him to new learners.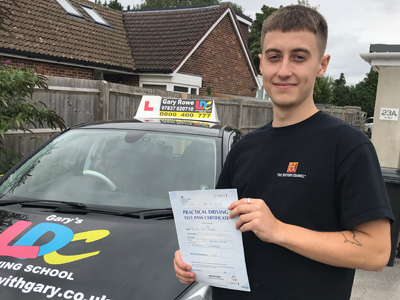 Kyle Spurgeon
1st Time Pass
I only have good things to say about Gary! He's very easy going and down to earth which made learning to drive a lot more comfortable and easier. The fact that Gary is a bit younger than your typical driving instructor made me feel more relaxed and always had good conversation to ease nerves whilst driving. All in all, I passed first time and that speaks for itself! Book Gary!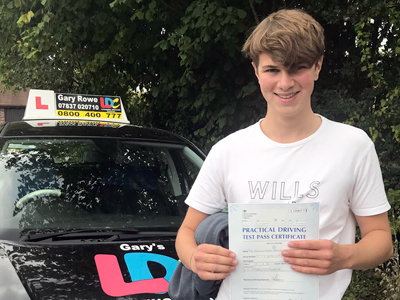 Alex Tivey
Passed 1st Time
A great fun instructor, great at teaching and great to talk to, a reasonable price for the area passed my test first time!!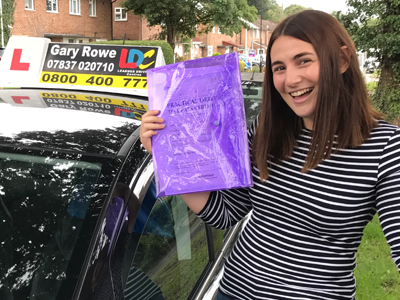 Ellice Dillow
Gary was, and is, a phenomenal instructor. From my very first lesson I was instantly at ease. I was spoke to respectfully, which was already far better than my past experiences! Not only that, but Gary was extremely patient, motivating and incredibly adaptive. Gary questioned me when out driving to boost my confidence and help me understand the reasoning behind many rules of the road. I cannot fault Gary as an instructor and recommend him to all walks of life. You will not find a more patient, fun or supportive instructor out there. Thanks for the pass! (Ellice leaving a cheeky review on my mums Facebook!)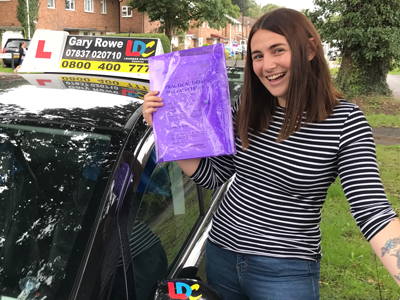 Ellice Dillow
Gary is an instructor like no other. From my very first lesson with Gary, I felt instantly calm and comfortable. His patience is second to none and I always looked forward to our lessons. What I really found helpful was how Gary would use questions and hand drawn illustrations to help me understand what I was doing and better understand the rules of the road. I can not recommend Gary enough, whether it's your first time in a car, or whether you've had some bad past experiences like me.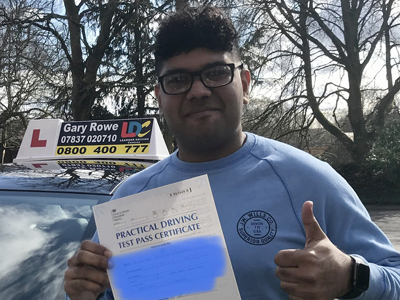 Eumesh
Refresher course
I passed my driving test with Gary in Winchester. I can't stress enough, Gary is an excellent driving instructor. I have had few other instructors before in my home town but Gary was brilliant. He knew what my strengths and weaknesses were and focused on my weak points. He knew exactly what he was doing. I have recommended Gary to my friends and I will highly recommend Gary to anyone, especially if you would want to pass your test the first time - with Gary it is definitely possible.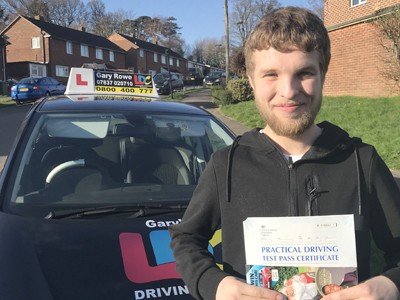 Bradley Lane
I joined Gary from another instructor that I had a bad experience with. To compare the structure of how Gary's lessons ran. The lessons were all booked and planned weeks in advance and scheduled in. Gary is a firm but fair driving instructor always considering both sides of a situation as well as having multiple techniques to complete an manoeuvre.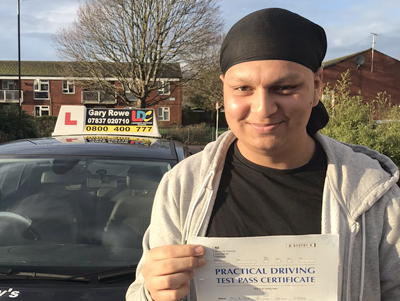 Jason Singh
Gary took me on about 3 weeks before my test, I had had 4 other previous instructors. Gary was extremely helpful with fixing the bad habits I had learnt. He's been extremely supportive and I would recommend him to any learner.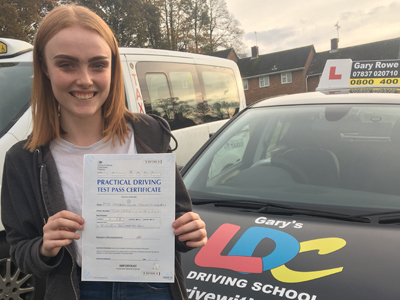 Cameron Godfrey
1st Time Pass
Gary is an amazing instructor, he believed in me from day one and made me feel comfortable behind the wheel. Our lessons were always a good laugh and I looked forward to them every week. We set a goal of me being able to drive in a years time and I achieved my goal thanks to him. Gary's way of teaching suited me the most because if I ever doubted myself he would ask me the question as a way of saying what I am doing is the right thing. Gary never once raised his voice at me or never felt the need to. I enjoyed learning with Gary and thank him for everything. I would highly recommend him to anyone.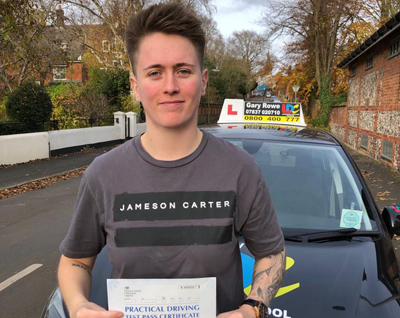 Charlie Weston
First Time Pass
Gary was a really good driving instructor. He made me feel at ease which helped me achieve my goal of passing before going travelling. I would highly recommend Gary.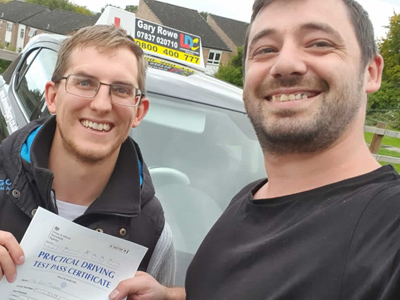 Ross Milburn
First Time Pass
Polite, professional, patient. It's been an absolute pleasure to learn with Gary. His knowledge of the roads is amazing, his tips and know how we're so helpful and helped me learn so much easier and safer. Not only had he been a great teacher but I feel like I've gained a good friend.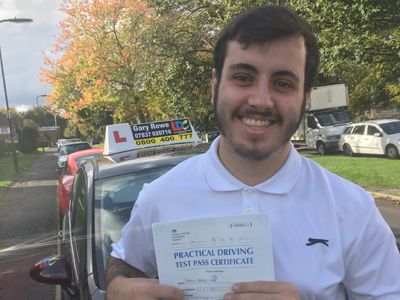 Shaun Young
First Time Pass
Gary was an amazing instructor. Very down to earth and when given briefs they were very clear and precise. I would highly recommend to anyone.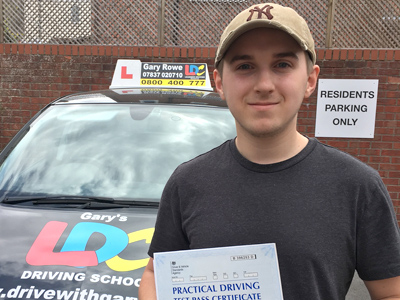 Bradley Berry
Gary is a great instructor, I couldn't recommend him enough, he made learning to drive a fun experience and made you feel comfortable and confident behind the wheel. Also the LDC theory test resources helped a lot when preparing for the test, they are easy to use and help you remember all the information you need to know.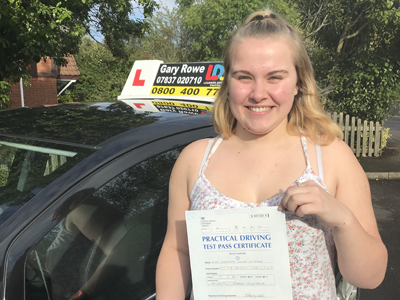 Charlotte Ettridge
Passed 1st Time
Gary is an amazing driving instructor that always brings the correct equipment plus more to always make sure the lesson would go as smoothly as possible and if it didn't, it didn't matter. He was calm and helped me to understand my mistakes unlike the instructors on the TV who would shout and scream how you had failed. Gary really helped me get over that fear. I always looked forward to his dad jokes that helped me feel lots more at ease and helped me to love being behind the wheel. I'm not too keen on strangers so I was scared that I would concentrate more on that than the driving but Gary has an amazing chilled out aura about him. I was comfortable to talk and chit chat whilst laughing about our families. 100% would recommend he WILL be seeing my younger brothers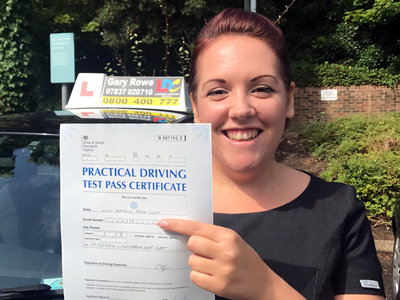 Natalie Cook
1st Time Pass
Gary was really helpful and very patient. Gary was explaining things in ways that I could understand better. He offered support and criticism where needed. I would highly recommend Gary, he was very supportive throughout the process and genuinely wants you to succeed.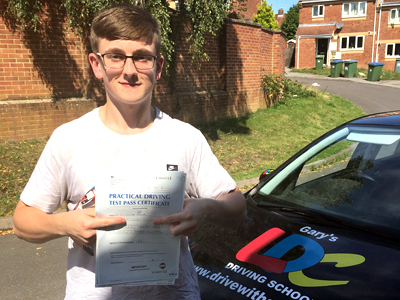 Levi Palmer
1st Time Pass
Overall, I think Gary is a great instructor and has helped me massively in passing my test. He is very calm and a friendly person. I previously had an instructor before him and comparing the two of them Gary is a massive improvement.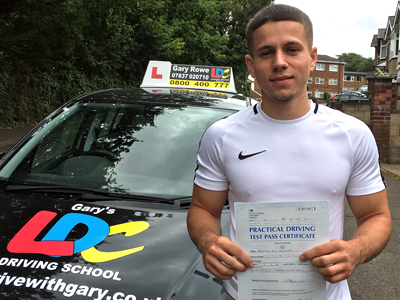 Braydon Douglas
1 Week Pass
I couldn't recommend Gary enough. After failing my test a few years ago I was short of confidence and didn't want to get back in the drivers seat. Gary changed this all after doing a week intense 'crash' course and made me feel confident and comfortable to get on the road. Gary is one of the best about and I can't speak more highly of him!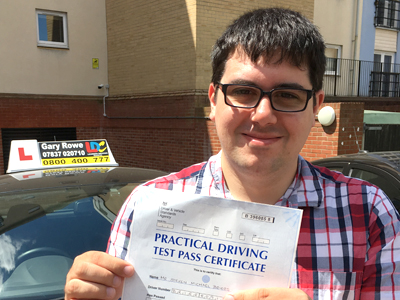 Steven Briers
Passed 1st Time
Gary was very good and knowledgeable and was always happy to help when I had questions. He managed to reassure me when nerves set in and I was much calmer than expected on test day. I would definitely recommend using Gary for lessons. As he's very good at putting people at ease and my lessons were very enjoyable and useful. I will use the skills I've learnt from him for many years to come. Thanks! He also knows some hilarious jokes!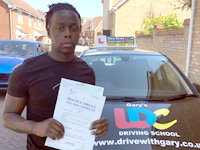 Kelvin Lichowe
Passed 1st time
Gary has made me the best young learner driver, with a Pass first time on my theory and practical. Me and him are very pleased. I'd recommend him to young learner drivers only because not only does he help you with the driving side, he also helps you with the theory side by giving you books and an online website where to revise for the theory. I wouldn't see most driving instructors doing so, so if you want to Pass first time for both tests go for Mr Rowe.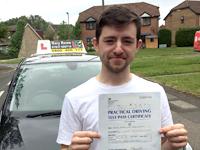 David Wilson
Passed 1st Time
Lessons were very enjoyable with using the workbook and multiple tasks and well explained. Helpful tips and videos were used. Methods were useful. Preparation for test was helpful and easy. Definitely recommend because Gary is easy to get along with and has good techniques.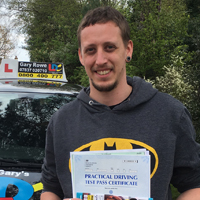 Gary Moor
1st Time Pass - One Week Pass Course
Gary made me feel relaxed when I first started driving with him, and took the lessons at a pace that best suited my learning style. He guided through the manoeuvres, sometimes trying different approaches to ensure I was comfortable with completing them and was patient when I struggled. Thanks to Gary I was prepared and calm for my test and passed first time.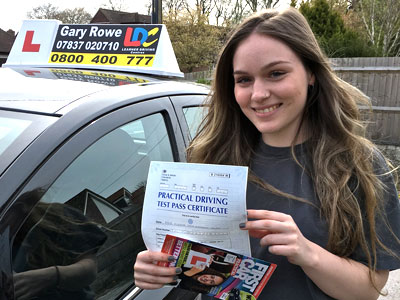 Ellie Smith
Gary has been such an amazing teacher and the best I could have asked for. He always made sure I was happy and comfortable, allowing me to regain my confidence which I appreciate very much. I can't recommend Gary enough. I wouldn't have been able to do it without him. The LDC style was very helpful for learning, especially the videos as everything was explained clearly and easily.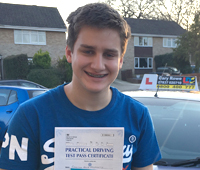 Tim Freemantle
Gary is a patient instructor that always doesn't shout. The test theory mocks helped to pass my theory by letting me know what the questions would be like. He taught me the manoeuvres with his little whiteboard which helped. I would recommend Gary because he is a kind patient instructor that taught me well.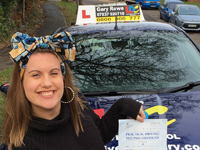 Jessica Smith
Gary has been a great instructor. After taking lessons with a few other people, I really started to lose hope and confidence in myself. Gary stayed calm throughout and has a very friendly and relaxed working environment. Punctual, professional and a great laugh - the recipe that finally led to my success! Couldn't have done it without him! My brother also passed with Gary and my sister's test is coming up so it could be a trifecta! Highly recommended.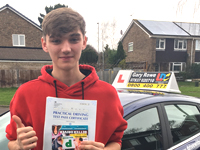 Oliver Carey
🎉 1st Time Pass 🎉
Gary has been an excellent instructor. He has a very calm manner and explained things in a way I understood. Even when I got things wrong, his calm approach always made me feel at ease and relaxed, ready to go again. I found the driving skills workbook useful as I could write down the things I feel I needed more practice on ready for the next lesson. It also had a good source of information which I found aided me in my theory test. I also used Gary's own website to help with the preparation for my theory test which I found particularly useful. Gary's learning method for manoeuvres were much easier to understand i.e. moving mirrors when parking etc. and helped me get a better feel of the car and the way it handles. If it wasn't for Gary's calm manner and funny humour I don't think I would have ever passed my driving test first time. Thank you Gary for all your support and guidance. I think you are a fantastic instructor and would highly recommend you to others wanting to learn to drive.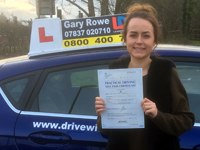 Kate Sherman
Gary has made the whole process to be a fun and enjoyable experience throughout! I cannot fault Gary's teaching. Due to his Patient nature this allows you to learn at your own pace and practice. Resulting in a much clearer understanding and suiting to everyone's individual needs. Gary is incredibly friendly yet professional. His clear communication skills and constructive manner made it to be a calm, informative learning experience. Gary helped me build my confidence not just for the test, but also for being able to safely achieve everyday driving on my own afterwards. Gary's recommended learning resources and LDC material was very helpful from start to finish. Gary is a fantastic instructor and an all-round amazing person. I wouldn't hesitate to recommend Gary to anyone! Cannot thank you enough Gary, looking forward to our motorway lesson!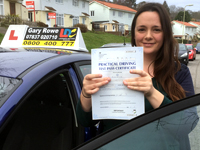 Zoe Smith
Passed 1st Time - Only 1 fault
I would definitely recommend Gary for Driving Lessons, he has always been very patient and calm with me. Thanks to Gary I passed my test first time!! When I was anxious, I would message Gary and he would always reply back with lots of reassurance and good advice. The same whilst I was in driving lessons. Thank you so much for helping me pass first time!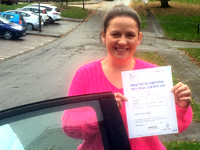 Vanessa Wills
First Time Pass - 5 Stars
Gary is a very calm and patient driving instructor and gains your confidence with ease. His learning methods are first class as are the workbooks and videos. He never minds his students messaging him for help and support and I recommend him to anyone who wants to learn to drive. I can not thank him enough.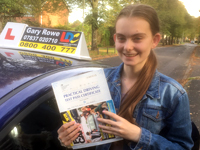 Callia Dew-Besson
First Time Pass
Gary was really helpful because he listened to how best to teach me due to my needs. During lessons he would conduct himself very patiently and would also be willing to listen to any questions I had. Overall he was really amazing and he was defined the best instructor for me.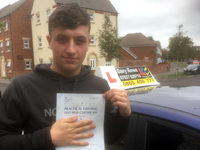 Kieron Trainor
First Time Pass
Gary was an excellent teacher very calm and understanding videos and workbook that he recommended were very helpful. Passed first time would recommend to anyone.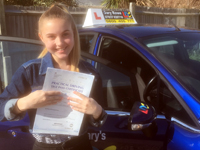 Holly Flack
5 Stars
Gary is an amazing instructor, he keeps you calm through every lesson, reassures you if you're getting worried about anything and is really easy to get along with and talk to! Already recommended him to friends.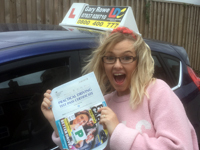 Elliese Wiltshire-Coe
First Time Pass
I've had a few instructors since I started my lessons and all have been unreliable money grabbing buggers! So Gary has been one of the best instructors I have ever had. Passed my test 1st time and I wouldn't of done that without the help with Gary! So thank you 😊 #KingBanter!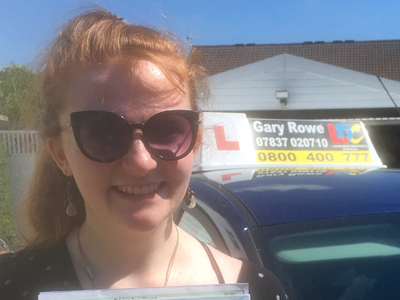 Grace Chaplin
FIRST TIME PASS
I'd had over 10 hours with a previous instructor before I had the 2 week intensive course with Gary. From the outset he was friendly, engaging but most importantly an outstanding teacher. He efficiently corrected 'bad habits' I had carried over from previous instruction and I immediately felt more in control of my driving, even enjoying it where it had previously been a less than enjoyable experience! His teaching style is both relaxed and exacting in the best of ways - always aiming for excellent driving. This allowed me to really recognise when I was driving well. It was test-focused from the start, but Gary made this relaxed too, taking my own stress about the test and turning it eventually into calm preparedness and even excitement. My instruction made the test as pleasant as it could be! I would recommend Gary to anyone at any level of driving as a friendly and engaging teacher. I also enjoyed the LDC resources to supplement my teaching, especially the 'Test' section of the workbook. THANK YOU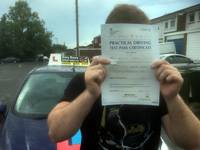 Jack
ONE WEEK COURSE - 1ST TIME PASS
Everything was excellent. Gary was clear and concise. He motivated me to become independent of instruction and be self aware of when I made errors. The workbook was very easy to understand and helped me prepare for each day. Gary is fun and easy to talk to. He allows you to make mistakes and see if you recognise them instead of my previous instructor who constantly micro-manages. I would happily recommend Gary to anyone and I have already told my brother to learn with Gary.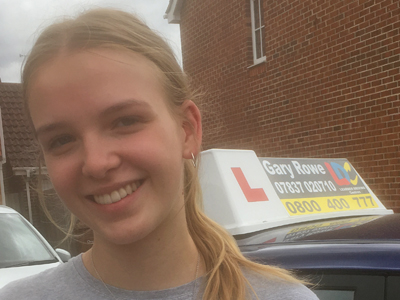 Lucy Johnson
1ST TIME PASS
LDC theory equipment was useful for being prepared allowing me to pass my test. I liked the book in the way I knew what I was going to cover and what I had covered in my lessons. Gary remained calm throughout which was good especially as I can get stressed quickly. He gave me constructive criticism which allowed me to progress and also told me often what I was doing correctly.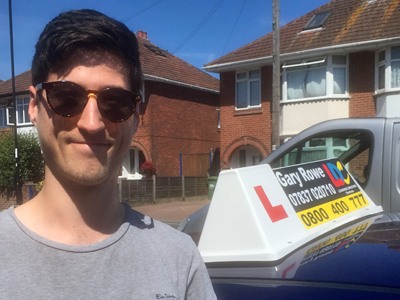 Adrien James
FIRST TIME PASS
Gary was brilliant as an instructor throughout the 6+ months of lessons. He was very kind to work around my work schedule. He was clear, concise, fair and supportive. His method of teaching was perfect, making every lesson very affective. The LDC system was very helpful for the theory side of learning to drive. I would recommend the system to anyone learning to drive. The workbook was very helpful, and the learning method affective and clear. I would 100% recommendation Gary as an instructor. His approach to instructing is very adaptable, and was to me as an individual. I feel like this played a large part to my quick progress. In addition the pace in which new skills were taught to me was fair. At no point did I feel I was not making progress. Gary's always been supportive, and clear where improvements needed to be made. Feedback was always constructive.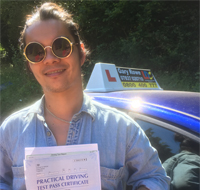 Justin Wingco
10/10 Instructor
Gary is the most understanding and helpful driving instructor I've had, although I've only had one other instructor. He's assertive but relaxed and will help you learn whichever method suits you best. The most important attribute is his communication skills, allowing for a greater level of understanding and higher standard of learning. Though I took my time, mostly due to being over confident, Gary stuck by me though thick and thin. Most pleasurable to work with, and a good friend made in the process. All the best to those who are with/decide to learn with Gary, but you'll already have it!!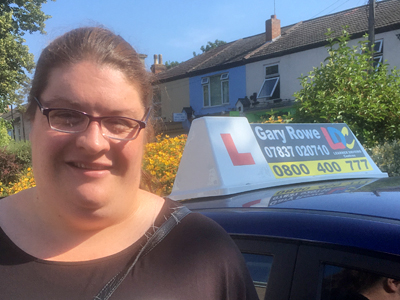 Laura Cenaj
2nd Time Pass
Gary was excellent. I liked him straight away. He made me feel at ease from the beginning. I couldn't have done it without you! It was a lot better than when I was learning to drive 10 years ago. The LDC system with the book and DVD was excellent. I would highly recommend and have already. THANKS SO MUCH GARY!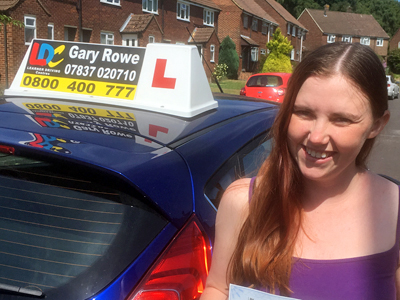 Louisa Mardle Sands
1st Time Pass
ONE WEEK PASS COURSE! Gary was an amazing instructor. He explained things well and adjusted his teaching style to best suit my learning. He was great fun to learn with and made me feel comfortable, even when I was stressing myself stupid. He has the patience of a saint, and I couldn't recommend him more! The LDC learning book helped with learning the theory of driving and was a very useful tool. Gary was fantastic and you couldn't get a better instructor!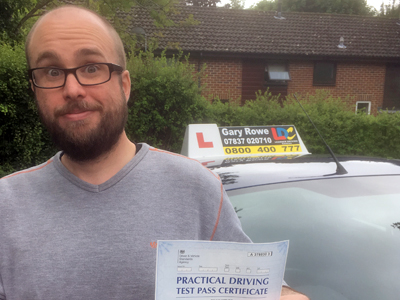 Craig Rickard
I couldn't recommend him enough!
Gary is a very clear, concise and patient instructor. He was very adaptable in his approach. When starting I was quite nervous and struggled at times, taking longer than I should to pick up on the basics. However, when I gained more confidence he adapted his teaching style to my confidence. The whole process was excellent, including communication, arrival times and prices. I couldn't recommend him enough. The LDC book is very helpful and clear, I used it every week in my lesson for preparation. The website was useful, contained a lot of information for general driving and the theory test.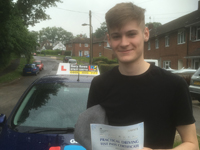 Ben Goodman
1st Time Pass
Very good instructor. Helpful & patient The learning method of choosing what I want to do really helped me. The online videos and information really helped to. Great theory material and show me, tell me video to help.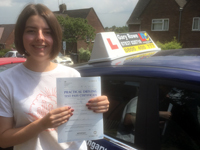 Lydia Day
5 star instructor
I found Gary to be a brilliant instructor; his patience throughout every lesson was brilliant, even on lessons which were more challenging. I always felt at ease and confident in the lessons. I've had 2 instructors before Gary and he has been by far the best one. Always positive, friendly and reassuring, especially when I didn't pass the first time, when I needed the reassurance most 😀 I would highly recommend Gary to anyone!!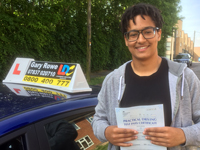 Rowan
1st Time Pass
Amazing absolutely amazing! Great banter whilst being professional! GREAT DRIVING INSTRUCTOR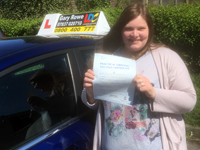 Claire Holloway
5 stars
Today I passed my test with the help of Gary, I've done lessons with another instructors before but didnt have much luck with tests. I felt so comfortable with Gary and at such ease, he is so patient and understands what you are looking to improve on. Gary is so easy to talk to and makes driving lessons so much more relaxed. Can highly recommend Gary. :)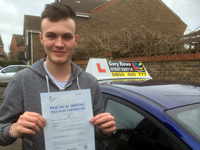 Jack Marriner
5 Star Teacher
Gary was a great teacher. If I was doing things wrong he would always correct me in a calm and helpful manner. He gave good tips to help me out with my test and for lifetime driving. The book is a great thing to buy. I would tell anyone to buy it to help out with tips and steps with your driving. Gary was relaxed but making sure that I was safe and a good driver. I would recommend Gary because he is great to take your lesson with and very helpful when needing to be.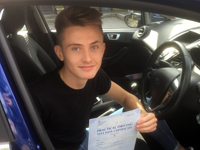 Brandon Davies
1st time pass
Gary was a great instructor with a lot of patience, he allowed me to plan the lessons myself which meant I was able to get more confident quickly. Gary had a good old bit of banter so it was chill :) I would recommend Gary to a friend because he teaches well and explains how to improve. Very good teacher.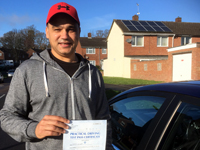 Keith Milner
1st time pass
Passed 1st time with Gary Rowe, had a fabulous learning experience, professional & patient instruction at all times, highly recommended!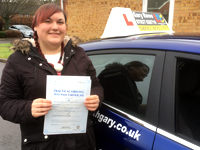 Lindsay
1st Time Pass
So....This morning, I passed my driving test, I am so happy right now and it's all thanks to Gary. I have experienced a few driving instructors in the past that I felt wasn't really ideal for me and my learning which left me very uneasy to start with someone new again. But I messaged Gary as I wanted to do an intensive course. And Since being in touch with Gary I have felt more positive in my driving, He not only makes me feel calm but helped me to remain positive throughout my lessons. His planning ahead really worked well for me and his technics especially parallel parking worked so well, that it's the easiest I've ever learned it. Gary is a wonderful and patient instructor and I would and have already recommended him. Thank you so much Gary for you kindness and help these last 3 weeks. Couldn't of done it without you! Xx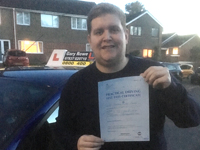 Jono Maton
1st Time Pass
Having started a new job, it was imperative for myself to get my driving license a quickly as I possibly could. My first lesson was in August and by December the 8th I had passed my theory and practical driving test comfortably. The confidence I was given behind the wheel from Gary in the early stages enabled me to progress at a fast rate, which was key to me passing first time. His laid back but stern style was perfect for someone like me, whose confidence is knocked easily. Mistakes were brushed under the carpet and my blameless driving skills were praised. I could not have imagined learning to drive with anyone else as I think I wouldn't have my license as rapidly as I do today with anyone else teaching me to drive. He's reliable, honest and has comfortably become someone who I owe a lot to. His friendly demeanour enabled me to relax behind the wheel, which also helped me to learn so quick. I would advise anyone, who is looking for a driving instructor who strikes the perfect balance, to choose Gary. I am very much looking forward to seeing him around.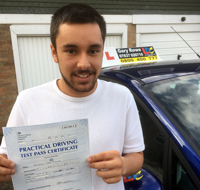 Keenan Pillay
Passed 1st time - 2 week course
Gary is an extremely professional, competent and polite driving instructor. We had an initial meeting before booking my son's lessons and I had no doubt he was the man for the job! An intense course is ideal for those short of time or unable to commit to regular lessons. I am over the moon with my son's first time pass and I wouldn't hesitate in recommending Gary to anyone.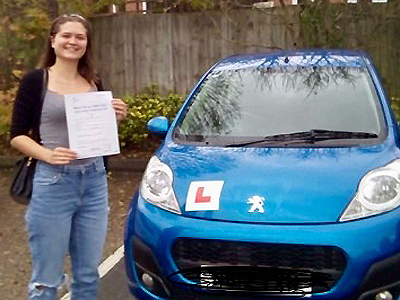 Robin Shukla
Passed 1st Time
I took the semi-intensive course with Gary, after my dad teaching me to drive for a few weeks prior. Before my lessons with Gary I completed the LDC book and DVDs which I would recommend to other learners if you want to get the most out of your lessons. I learnt the basics with my dad but my time with Gary developed me into a confident driver. Gary quickly spotted and corrected any of my bad habits. He put effort into answering all of my driving queries and giving me detailed explanations on how to drive in all kinds of scenarios as well as accurately completing manoeuvres. Gary let me work on the areas I wanted to improve on, often fitting a lot of driving skills into each lesson. It's clear that Gary doesn't just want to teach you how to drive, but he wants you to be a good driver. He is friendly, great to chat to and doesn't react badly if you make mistakes, he always stays calm, which makes you feel very comfortable learning with him. With Gary's help I passed first time, with only 2 minors, which shows how well Gary teaches his students the skill of driving and gives them confidence in their own abilities. Thank you for all your help Gary! Would definitely recommend!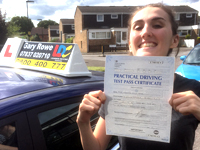 Madison Rowe
5 star instructor
My uncle Gary is a fantastic instructor. He is calm when teaching and is motivational and very supportive. He believes in all his students and is very determined to help everyone pass first time. I would recommend him to anyone who is looking to learn. He never gave up on me which motivated me to do well. Fantastic instructor in Southampton.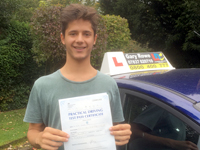 Oliver Ryall
1st time pass in 2 weeks
First time pass after a 2 week course! All thanks to Gary! A brilliant instructor with a methodic approach to passing the test. The lessons and instructing where very well set out to my personal needs and insured an excellent driving experience. Gary was very good at helping me learn from my mistakes and improve. A 5/5 instructor, I would without hesitation recommend him to anyone out there! Thanks Gary!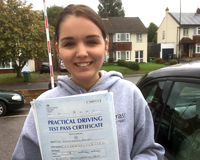 Zofia Rogers
1st time pass in my own car
5/5, The structure of the lessons is down to personal choice which enabled me to shape and decide how I wanted to spend my time and what I needed to focus on. A really calm, reassuring and comfortable environment and uses constructive criticism to boost confidence while driving. Really helped with understanding manoeuvres that my parents couldn't help with and gave useful reference points to make each one seem easy. The handbook also made it simple to remind myself of the steps to manoeuvres when not in driving lessons and explained the test layout in detail. Always made sure I booked lessons in convenient times for myself and was flexible if I needed to change the times of my lessons or location for any reason. Would definitely recommend for anyone learning to drive!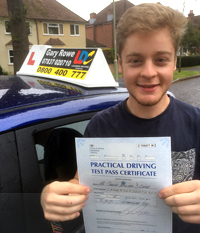 Connor Lamb
5 star teacher
Gary was my second instructor. He helped so much with my confidence and making sure I got the pass. I would rate him 5/5 and would certainly recommend him to a friend. An important factor to me eventually passing was how Gary approached my faults. It's been a pleasure having lessons with him!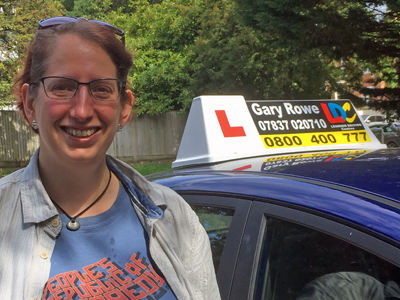 Hannah
3 weeks, 30 hours, 1st time PASS
Gary is a brilliant instructor. I did a semi-intensive course, over 3 weeks, which I knew would be hard work but Gary paced it well and was incredibly patient when the pressure (I was putting on myself) got too much for me. As a trained teacher I was very impressed with the way he adapted to my learning style and made adjustments in the way he explained things so I would understand. In fact that was why I chose the LDC school as their way of teaching; with the book and DVDs as well as the lessons is the best way for most people to learn. I found that watching the videos and reading the relevant chapters in advance really made the most use of my time in the car but the best bit for me was the section where
I planned what I wanted to do in the next lesson. I felt like I was in charge of my own learning and if I felt I needed a bit more practice in one area then I could put it down and discuss it with Gary at the start of the next lesson. He was really flexible and always incorporated any areas that I wanted to work on into the lesson, without making me feel awkward about wanting to focus on them. Gary is very easy to talk to and answered any questions I had clearly. He was happy for me to experiment with different driving environments so one day we the radio on, quietly of course, and he was happy for me to drive with the window open, even when the rain was coming in and soaking his car. I got quite nervous as the test got closer and he took the time to take me to the test centre so I could wander round and get a feel for the place before the test itself, which really helped.
Why did I choose Gary? When I started this journey I knew I wanted to use LDC but there were a number of LDC instructors covering Winchester. Having looked at them all I chose Gary because he had taken the time to personalise his 'about me' section on his website. It sounds like a small thing to make a decision on but to me that showed he really cares and is passionate about working with individuals, rather than just doing a job. I definitely made the right decision and would recommend Gary to anyone wanting to learn to drive in a calm and positive atmosphere.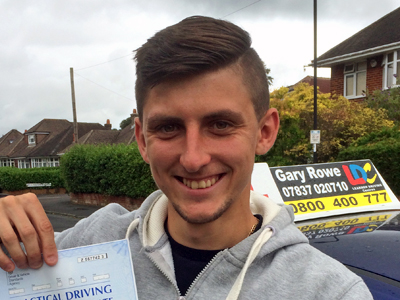 Martin
I would without doubt give give Gary 5/5 stars. I took my time to pass but with Gary's expertise he made my hurdle possible. Gary was always patient with myself and confident I would pass. The LDC driving school helped me massively with readily available content via internet and books. This helped develop core driving skills and always be constantly on hand to offer support. This helped massively for any time not in the car. Gary would always help to highlight areas for improvement, especially for my bay parking. Gary was always calm and would always explain things thoroughly to help improve myself. I would recommend Gary to anyone who wants to pass their driving test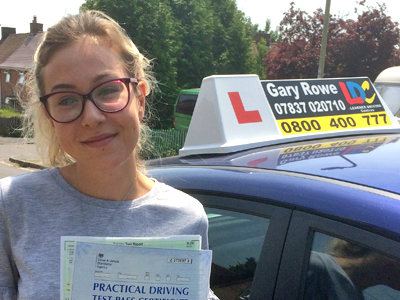 Lucy Robinson
One minor fault
5 Stars - 2nd time pass Both Gary's calm and constructive manner helped me to pass my test with only one minor, I can't believe it. The LDC driving manual and Gary's knowledge really boosted my confidence as a learner driver. I had previously had 2 other instructors and Gary has outshone them all. We nailed manoeuvres every lesson and all in all I feel that I am the best driver I can be, all thanks to Gary's hints, tips and tricks. I'm looking forward to my motorway lesson with Gary in a few weeks. Of course I would recommend Gary! Thank You!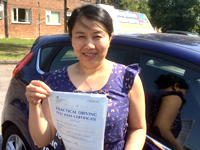 Shun
Passed 2nd Time
Hi Gary this is thanks letter. Today passed 2nd time. Thank you very much Gary! I have been learn to drive for 4 years.Gary is my 3rd instructor. He is quite strict but that's important because of the dangers and always ask me a question if I made some mistakes and taught me important techniques from himself. Gary helped me to build up my confidence due to the fear of speed. Thank you for him get me on the road. I would recommend him to anybody they want to learn how to driving safely.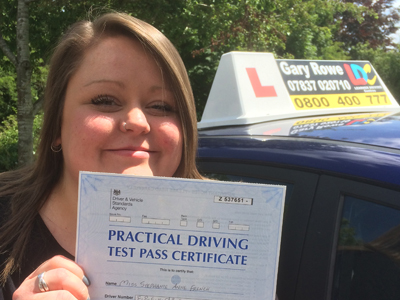 Steph French
Passed 1st Time
I would give Gary 5/5 stars I was so happy to pass first time, I never thought it was possible. Gary built my confidence up and made me feel like I could do anything. The LD workbook help massively. I could put my thoughts down and wrote things I needed to improve and how which helped for the next lesson. Gary made the environment so friendly and chilled which helped me and we had a right giggle after having such a bad experience with previous instructors. I would recommend Gary to anyone who wants to pass first time.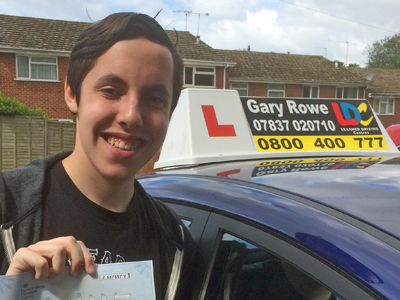 Luke Trayhorn
1st time pass
Gary was the best instructor I could possibly ask for and would defiantly rate him 5 out of 5 stars. I never thought I would be able to pass my test but Gary gave me the confidence to past 1st time. Gary explained everything very clearly and in lots of detail to help me with things I was struggling on. Gary was very encouraging, I did not have any confidence when I started driving and without Gary's help I would have never become a confident driver. The LD system was amazing in helping me learn to drive. The workbook had detailed chapters including diagrams which explained everything in detail. It helped a lot by visualizing what I was learning by looking at the diagrams in the workbook.
The workbook also included lesson planners, I found it extremely helpful writing reflections on each lesson. This helped me remember what we had learn each week. As well as the workbook, the LDC YouTube channel had extremely helpful videos which explained each new lesson in good detail. It was helpful watching these videos before each lesson. Gary created a very calm and relaxing environment for me to learn in as I was very nervous to start learning to drive.
Gary remained calm no matter how many times I messed some stuff up. I would defiantly recommend Gary as a driving instructor he remained calm and explained everything in great detail and would always help me improve and I would have never of passed my test 1st time without him. Thank you! Thanks again Gary :)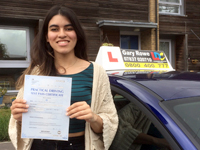 Amber Houlders
2nd time pass
Gary is an absolutely fantastic instructor to learn from. Everything is amazing and very professional. He goes out of his way to make sure it's a very fun and educational environment to learn in. The LDC is one of the best driving companies in and around Winchester, and all in all I would highly recommend the LDC driving school. They are a brilliant company! Thanks again, you were really a great instructor to have. And hopefully I should be seeing you soon for some motorway lessons!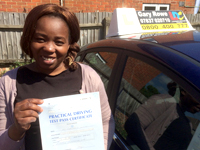 Ola
5 star teacher
Gary was great help even when I didn't believe in myself. He kept on assuring me that I can do it. The book helped me prepare for my practical, especially as regards to the roundabouts. It helped me know how to approach all situations, mainly roundabouts. Gary always had words of assurance and kept on saying I could do it. Your sincerity was also a great help. The flexibility in your time is also encouraging. The best thing I learnt is the reverse to the left. The reason is because I struggled so much about the manoeuvre and thought I should give up but Gary helped me learn it so well. I would recommend you to anyone because you are patient, sincere and straightforward. Thank you.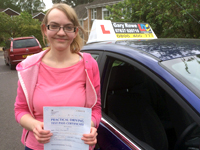 Jane Lehtmets
6/5 stars
Passed 2nd time. Gary was always calm and kept me calm to focus. I also think he put up with me at times. I was quite worried about parallel parking, but he went through it step by step and gave good reference points to do it better. His way of teaching gave me confidence to be a better driver. The LD system DVD and book was very helpful and helped me plan ahead for the lesson. The way the book is laid out helps you focus lesson by lesson. Gary gave clear instructions and kept a calm environment even when I made mistakes and always asked how to make it better rather than tell me. I would recommend him because his approach will help everyone pass their driving test.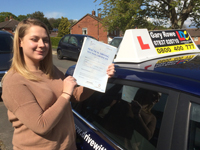 Lauren Hooper
1st Time Pass
5/5 stars. He helped calm my nerves and helped with my confidence as it improved with every lesson. Gary always made lessons enjoyable by getting to know me and it made me feel at ease. I would recommend Gary and the LDC system because it allows you to chose on what you think you need to work on instead of having a set lesson schedule by the instructor.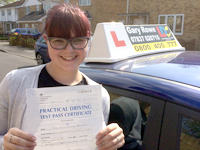 Lucy Boneham
5 Star Teacher
5/5 The confidence that you gave me whilst I was learning and the positive feedback and learning environment you provided. I used both the DVD and the book to help when it came to show me tell me questions, watching and looking at the manoeuvres, I liked that I could decide how I wanted to spend the lessons and what I wanted to achieve. You are very friendly and easy to talk to. You explain things in a way that is very understanding and your very patient when it comes to doing manoeuvres. I would recommend you because you are a very kind person and your a patient teacher who's willing to help anyway you can. I have already recommended you to my friends :)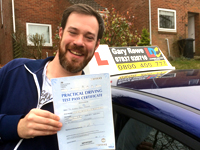 Andrew Taylor
1st Time Pass
Gary is a very calm and able instructor who was able to identify and meet my needs as a learner. Having had lessons years ago with an instructor I didn't get on well with, I was nervous but Gary was more positive and gave me a much better experience. Gary was a reassuring change and a great instructor. I would definitely recommend learning with him.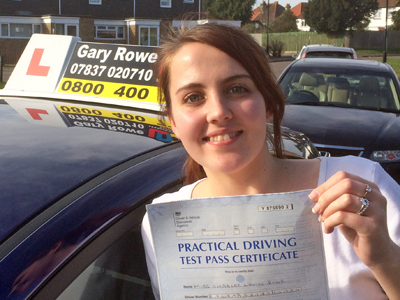 Charlee Rowe
Gary is a fantastic driving instructor - friendly and relaxed, I was put at ease as soon as I sat in the car. He let me decide what I wanted to do in lessons and was patient, giving me the freedom to practice something until I was happy and comfortable with it. Throughout all my lessons, Gary gave me constructive criticism on how to improve my driving. If I was struggling to understand his explanation on how to do a manoeuvre, he would try his best to tell me in another way that I could understand better. I was very surprised with the LDC system too. Gary set me up with a log in to the website, where every possible question that could come up on my theory test was there for me to practice, along with the highway code and online driving booklet. I wasn't expecting this, as none of my friends who were learning had anything like this to use. I would 100% recommend Gary as a driving instructor. Thanks for helping me get on the road Gary!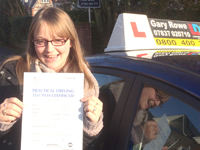 Katie Lawrence
1st Time Pass
Gary's calmness and approach to lessons helped me immensely. I had no confidence with gears when I started with him. I had lessons before and just didn't have the confidence to continue. I was so nervous but Gary helped me through it all. The workbook and DVD that I got from LDC helped with a lot of the points to help me prepare, revise and answered a lot of questions. The LDC system worked very well for me being a nervous driver, the approach system is great and how things are dealt with. Gary created a very friendly and comfortable environment by chatting to me, helping me with any questions I had and showing me everything I needed. I will and already have recommended Gary to friends and family due to his good approach with people, his patience is great and all round kindness in himself.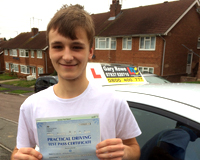 Patryk Kowlaczyk
Passed 2nd time
Fantastic day today passed my test all thanks to the wonderful driving instructor Gary, he's an excellent teacher and is always jolly and calm. He was my only instructor but I wouldn't want anyone instead. I like the LD system as the workbook lays out all the plans but it's down to me what I want to focus on. He was great, always stayed calm and very understandable. I would recommend him to anyone due to his successful teaching method.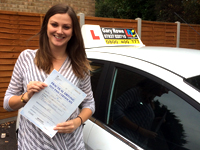 Jess Towson
Passed 1st time
I was very pleased to be taught by Gary. He asked me what I wanted to do and that's what we practiced. He gave clear instructions, always kept calm and went through any mistakes to work on. The student hub helped me pass my theory and I would recommend him to anyone.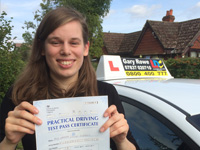 Hannah Forrest
Refresher Course
Gary is a great driving instructor! The driving lessons were fun and relaxed and he put me at ease straight away. His constant positivity and encouragement helped me hugely! Overall I would recommend Gary as he is an excellent instructor and very professional and calm. Thank you for all your help with my driving.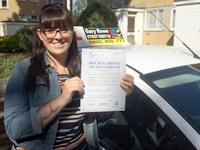 Sam Williamson
Passed 1st time
I'm absolutely delighted with my lessons I had with Gary, he made them very interesting and enjoyable and thanks to him I passed first time...I'd thoroughly recommend Gary to anyone I know looking for lessons. Heres to a new lease of life...thanks Gary! 😀