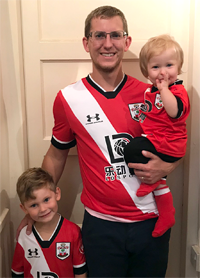 About me
Hi I'm Gary, I am a fully qualified Government Approved Driving Instructor (ADI).
I am a husband and father of two. My Wife, Son and Daughter are the most important people in my life. I am from a large family, one of six siblings, so family is vital to me and my life.
Sport is a massive part of my life. I've played football from a young boy and I support my local team Southampton. I also love cricket which I know isn't everyone's "cup of tea" but I can't get enough of it. I play every Saturday during the Summer season (May to August) for Bishops Waltham CC.
I became a driving instructor because I wanted a job with real satisfaction and there is nothing better than seeing someone pass their test first time. I maybe a young driving instructor but I have a lot of ambition and drive. I strive and want to improve the way driving tuition is delivered. I thrive on the success of my pupils and love to see my learners succeed.
I was fortunate to be trained by LDC in the latest adult coaching and training techniques so you can be assured the training I give will be of the highest standard.
I chose to work with LDC because everybody is different and the LD System allows for flexibility in lessons so that you learn to drive safely at a rate that suits you. I aim to make every lesson enjoyable and as productive as possible. The LD System just helps me to do this more effectively.
Lessons are always conducted in a calm, friendly and relaxed manner as I firmly believe in making pupils feel at ease during lessons. I will work with you to build your confidence behind the wheel and to achieve your goal.
Thank you for taking the time to visit my website, if you have any questions please feel free to click here to "Contact me"